Garnishes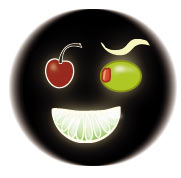 A garnish adds extra colour, flavour and style to your cocktail.
The garnish should match the quality of your other ingredients. This means you should use washed fruit and fresh garnishes that look as good as they taste! The most common garnishes in popular cocktails include some fruits, like cherries, lemons, limes, oranges, and pineapples. They bring their flavours and bright colours into the mix. In addition, olives, celery or onions are the finishing touch for some of the drier flavoured concoctions.

A Twist or a Slice?
A twist of lemon or lime is a small strip of peel that gives great taste and style to many popular cocktails, a good example being the Manhattan. The best way to release the aromatic oils is to hold the twist with your thumb and index finger of your left hand holding the pores or coloured side down over the drink with your right hand, while twisting and squeezing the oils from the skin. Often the twist is put on the rim of the glass, dipping into the drink. The pulp of the fruit will yield fresh juice for those other cocktails you have been dying to try.

When garnishing with a slice of fruit, be careful with the size, too thin is flimsy, while too thick can unbalance the look and even the flavour of the cocktail. The lime or lemon slice can be rubbed on the rim of a glass so that salt or sugar will stick to it. If you are going to squeeze a slice of lime or lemon before serving, avoid giving people around you some citrus flavours in the face rather than the taste buds!