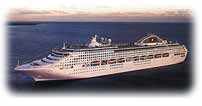 Sun Princess
The Sun Princess is the big sister who set the standards for excellence and luxury for her three sister ships: she is splendid from stem to stern. The Sun Princess offers both inside and outside staterooms, with many of its ocean-view rooms featuring private balconies. Built in 1995, this 856-foot vessel sails with 1,950 passengers to Alaska, the western Caribbean and the Panama Canal.

Dawn Princess
The second sister, the Dawn Princess, offers the flawless service and amenities of a grand hotel, perfectly combining luxury with comfort. Built in 1997, she sails to Alaska, the southern Caribbean and the Panama Canal.

Sea Princess
The third sister, the Sea Princess, is a superb blend of premier facilities and personal service. Built in 1998, she sails to Alaska, the southern Caribbean, the Mexican Riviera and the Panama Canal.

Ocean Princess
This youngest sister, the Ocean Princess, was built in 2000. She follows in her sisters' footsteps, offering comfortable, well-appointed staterooms and personal attention. She sails to Alaska, the eastern and southern Caribbean and the Panama Canal.

Visit the Glacier Bay or the Hubbard Glacier with a cruise along the Canadian/Alaskan coast. Select the ship below to see the itinerary and obtain a free quote.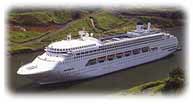 Regal Princess
From the sophistication of the Bacchus Wine and Caviar Bar to the excitement of The Dome Casino, the Regal Princess is designed to pamper and indulge her 1,590 passengers. Her spacious staterooms and opulent suites come with or without verandas. This 811-foot vessel, built in 1991, sails to Alaska, Australia and New Zealand, India, Italy and the Orient/Asia.


Bon Voyage!